It is indeed undeniable that pure-bred pups have their own unique charms and captivating characteristics to love, especially if you're into a specific kind, like terriers for instance. While some puppy connoisseurs are into pureblooded pooch, the rest are up to mix two different pure-bred creating a more charming pup you'll ever see.
Talking about hybrids, of course, Terrier mixes are the most prevailing dogs. Though Terrier mixes are known as vermin hunters and fearless, Terrier breeds are still definitely adorable tiny babies. If you're interested in getting one, you can read this blog and I'll help you find one that is too cute to resist!
Got no idea about these combinations? No worries. I have done some research and brought together the ideal Terrier crossbreeds aside from popular Bull Terriers. Get to know these 21 interesting Terrier mixed breeds and search for the cutest one you'll love:
What are the best terrier mixes?
Knowing how broad Terrier mixes are, they unsurprisingly became part of the most famous blend when it comes to pups. So, enough with the shush- here's the list of the well-known Terrier Mixes I have found after scouring online:
Airedale shepherd (German shepherd + Airedale terrier)
This so-called "King of Terriers" has the widest selection among other Terrier breeds. The Airedale shepherd can be your exercise buddy as they are bred for versatility. Besides, this canine is also being considered as a clever one, obedient and very curious, making them easy to train.
Just a little tip, this doggy is not suitable for little kids. Since they are very outgoing, it may require you over an hour which can be exhausting for your young. Nevertheless, this pup is a really good catch if you're looking for a leisure pal.
Airedoodle (Airedale + Poodle Terrier)
I can't deny how Poodle itself is already lovely enough but, I will say how good-looking it is with a hint of an Airedale. If you're looking for a family dog, this one is a really good catch. No need to worry about allergies – this Airedoodle is hypoallergenic, thanks to its parent breeds.
Aside from those, it is characterized as a carefree baby that loves to be with its possible keepers. Not to mention how resilient they could be, you can definitely bring them with your physical activities – be it swimming or jogging, they'll always be lively companions.
One thing to note, Airedoodles pretty much enjoy being outside, it's best to let them wander to a closed yard – letting them feel free sometimes.
Bugg (Pug + Boston Terrier)
Named as a spunky one, Bugg is a perfect family pooch to keep. Although they are most commonly known to be silly and trouble might be their second name, this pup is a keeper especially for your little children – indeed a friendly one.
If you have no clue about Terriers and it's your first time keeping one, this is also a great catch! No frills. Grooming them is undemanding, unlike other Terrier mixes.
Having said that Buggs are known to be prone to respiratory diseases, avoiding possible causes is a must. Also, well-taken care Buggs can live up to 13 years – quite long to enjoy their lives with possible keepers.
Bullboxer (Boxer + Pitbull terrier)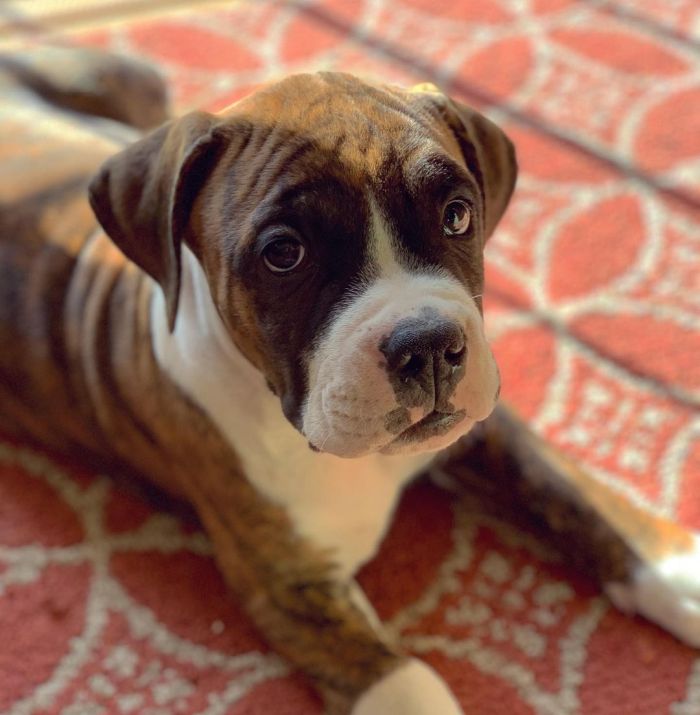 While some think Bullboxers are dangerous, this terrier mix has been proving that there's nothing to be afraid of and that they should be considered as man's best buddy. Plus, if you have a family who is into outdoor activities, this is one to keep.
Bullboxers tend to love jumping to strangers and say hi – indeed an easy-going companion to have. Besides being one of the friendliest pups, they are also well-known as one of the staunch terriers you'll ever meet.
But wait, this kind of hybrid also belongs to the brachycephalic dogs or commonly known as a short-headed one, its best to keep them away that may worsen their case – Let's help them live a happy life while still here.
Chorkie (Chihuahua + Yorkshire Terrier)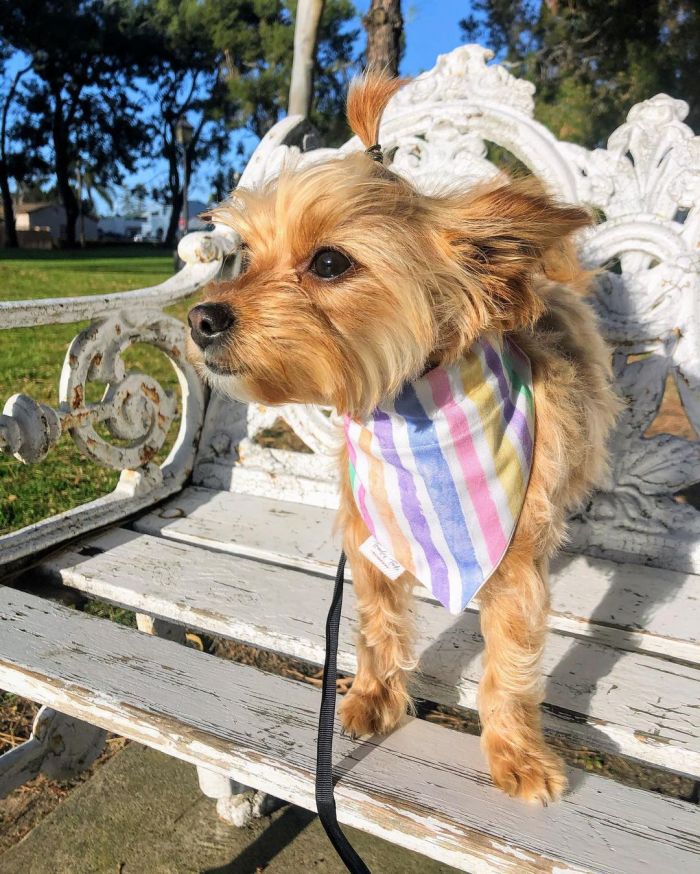 Knowing the fact that Chihuahuas and Yorkshires belong to the smallest toy pup, it's without a doubt that it can be a great terrier mix. Chorkies are amiable ones and render to be playful, allowing him to be a perfect mate, especially for your little ones.
Most chorkies can weigh up to just 10 pounds – definitely an easy-going pup, where you can bring him anywhere without any fuss. This tiny cutie is also an incredible guard, it can be aggressive to strangers. Well, this mighty little one is surely loyal to its owners.
That being said, Chorkies are challenging when it comes to grooming since they mostly have medium-long furs to deal with – well for some who love to groom, you probably want to have a chorkie.
Frenchton (French Bulldog + Boston Terrier)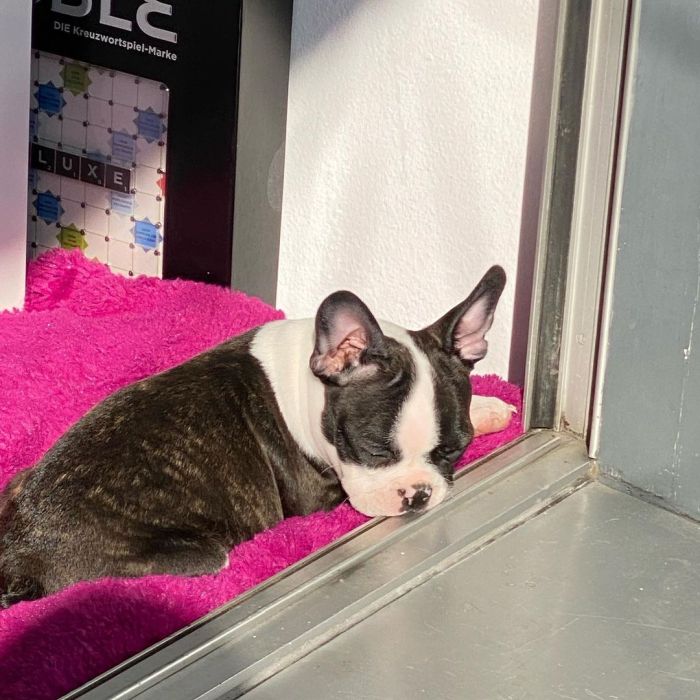 I must say, Frenchtons are indeed among the famous terrier hybrids with incredible temperaments. Not only do they feature a lot of good personalities – gregarious, mischievous, calm, resilient, and hefty to be a great companion, but rather, they are also bred to alleviate most respiratory issues.
On top of that, this breed doesn't require you often grooming. Their faces are mostly cleaned by just using wet wipes or cloth. Conversely, you might need to be informed about the loud snores that they can bring.
Oh, it's also important to know that these dogs are not hypoallergenic so be sure to be very keen on proper techniques to avoid frequent allergy reactions.
German Shepherd Pitbull Terrier Mix
While some are up to hand-carry terrier mixes, you may also be curious and interested in having a medium-large sized companion. Well, no need to keep scrolling as I present to you German Shepherd Pitbull terrier mix – your new amazing best friend.
First off, I would just like to inform you all that this Terrier is about to stun you with its lively character plus, a reliable one. Hence, they are the most trusted animals to be a watch-out. These designer dogs are not just for sale, some animal rescues are taking care of these kinds of breeds so you may want to consider adopting one.
Besides these great qualities, it's best to let you all know as well that this kind of terrier is not suitable for apartments, they like to wander outside to let them enjoy running around. Having a wide yard is the best home for them.
Highland Maltie (Maltese + West Highland Terrier)
While some breeds do have a lot of fur colors combined, this little pure white terrier mix can also be charming on its own. Besides, they undoubtedly suited as a family pet, a peppy one which always loves to be cuddled by its owners – just a little reminder, make sure to avoid hard plays as they can be aggressive at times.
Featuring some great characteristics from its parents, Highland Maltie is certainly one of the designer dogs is easy-going and smart. Also, brave is its second name – thanks to its west highland parent.
MUST-READ: Maltese Mix Breed
Jackabee (Beagle + Jack Russell Terrier)
Crossbreeding a pup with a strong sense of smell and the bold character of a beagle and jack russell terrier can never go wrong. This breed might not be as popular as other terrier mixes but this can be a great add-on to your family!
It's suitable even for your apartment but keeping your yard with a 6-inch fence is a must. You don't want to let this pooch jump over as they can hop as high as that – inherited from its Jack Russell parent.
Taking care of these breeds should also be focusing on their health. Having said that Jackabee has the strongest smell sense – from its beagle parent, it may develop health issues if not well taken care of. Since they are small, they should have regular small servings of food.
Jackahuahua (Chihuahua + Jack Russell Terrier)
Most commonly known as Jack Chi, this hybrid from adorable, cheeky chihuahua and playful, intelligent Jack Russell is definitely a play pal for those who have old kids. Acquired from both of its parents, they have such a wonderful temperament you'll ever find in one pup.
If you're up for a quiet dog, this absolutely is a good catch! They love nothing but affection from its pack. No wonder Jackahuahua is one of the best terrier mixes behind all of the famous designer-dogs.
Contrary to its best characteristics, Jack Chi can be stubborn when it comes to training, if you're a first-time keeper, it could be complex to take care of. While others with a lot of experience in looking after these babies, it could just be a cinch.
Lab'aire (Labrador + Pitbull Terrier)
Another medium-large terrier mix, I introduce you to one of the loveliest cross-breed you'll ever meet. Named as Lab'aire from agile Labrador Retriever and courageous Pitbull Terrier – this is about to amaze you with other traits from both parents.
Training is not new when it comes to these hybrids, most of them are great treats driven – the typical way of letting them show off what they got. If you're looking for a hiking bud, Lab'aire is always ready to go with you!
Labrador Giant Schnauzer Terrier Mix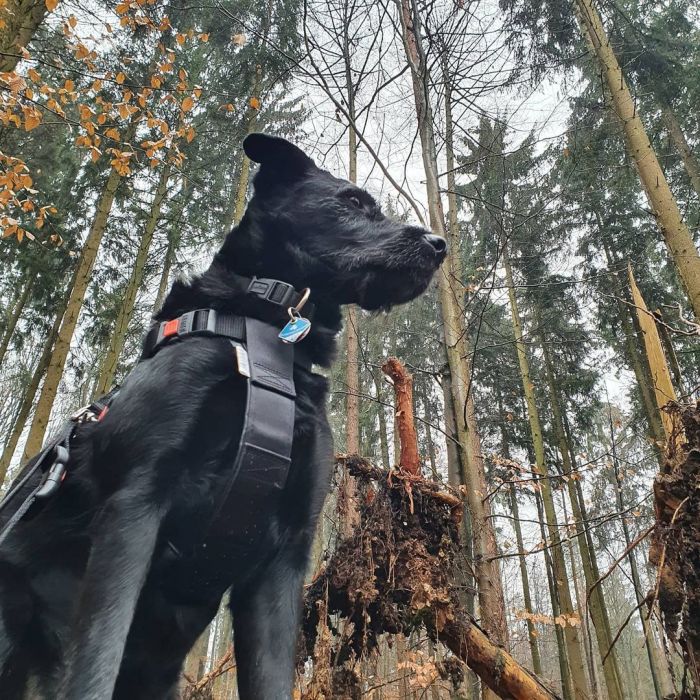 While some want-to-be dog owners are up to the famous hybrids, you may also want to consider taking care of this unique one. Be seized with its wonderful characteristics – praise both of its parent's temperament.
Talking about great qualities, the Lab giant schnauzer terrier breed is a great watchdog. Though they can be aggressive when meeting strangers, proper training can help them overcome this. In fact, an aggressive dog can keep unwanted visitors away. Also, featuring its active ability, it could be your workout bud.
Morkie (Maltese + Yorkshire Terrier)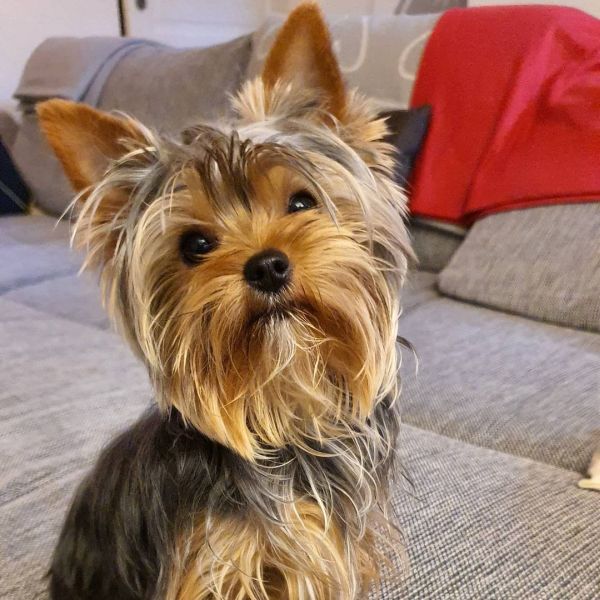 Talking about handbag designer dogs, Morkies should never be left behind. Also referred as Yorkshire Terrier, this little pooch has managed to get both of the best qualities with both of its parents.
This hybrid found its comfort zone in its owner's laps, they love to spend most of their time in their owner's presence – utterly an adorable one. Bet you'll have a hard time resisting their cuteness.
Morkies love strolling as well, better take them to a walk daily as they need it too. Despite being one of the affectionate dogs, Morkies may tend to be aggressive when not properly trained. Make sure to ready your patience with this one.
MUST-READ: Adorable Chihuahua Mixes
Neapolitan Mastiff Pitbull Terrier Mix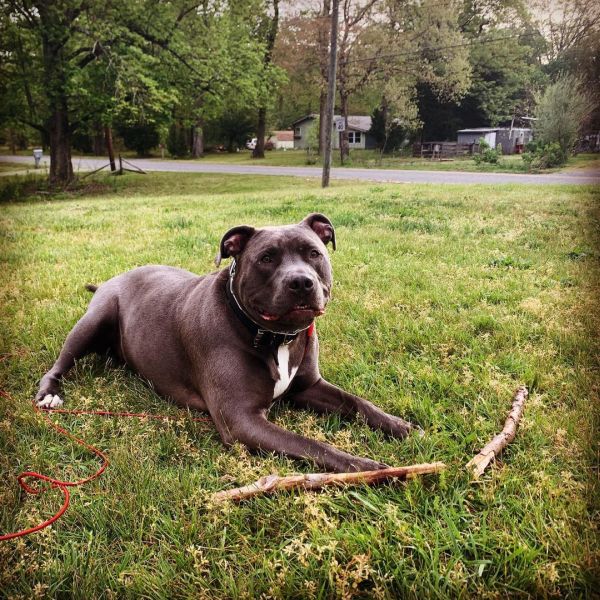 Big-sized hybrids are indeed a great guard dog for the family if you're looking for one. This mighty terrier mix from Neapolitan mastiff and american pitbull has both of its parent exceptional qualities – making it a great family dog, especially if you're an expert owner.
In defiance of how ominous they physically look, they tend to be a loving and caring bred to have. Also, they are very loyal to their owners and may require a lot of great training to keep their chill when in front of strangers when commanded to do so.
Pitski (Siberian Husky + Pitbull Terrier)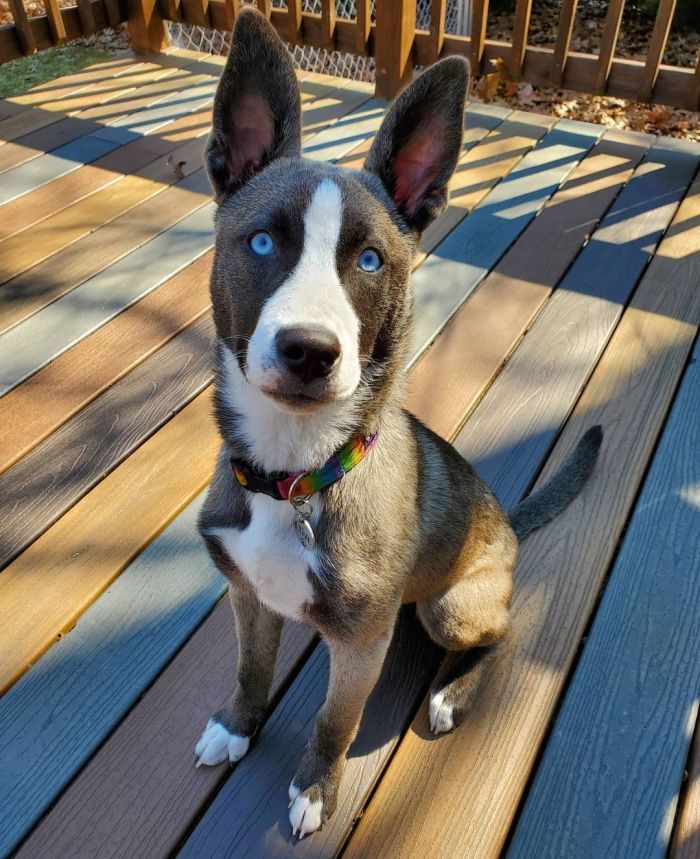 Crossing the two most famous breeds of intelligent Sibrerian Husky and Obedient Pitbull makes an astonishing medium-large sized Pitski – truly a faithful companion pup to have. In spite of being hard to train, owners who can fully commit to taking care of this hybrid can let them totally devote their lives for yours. They can be the kindest breed for their loving keepers.
Just a little reminder, these mixes aren't hypoallergenic, if you still insist to take care of one, be sure to follow the guidelines to prevent frequent allergy reactions.
Rottweiler (Rottweiler + Pitbull Terrier)
There are a lot of Pitbull mixes you can find, but this Pitbull Terrier with a touch of Rottweiler has the best qualities of being a family dog which can be fascinating. Featuring some of its attributes, this sturdy large-sized and intelligent comrade is also a great watchdog – unsurprisingly known to be part of the military back in time.
Behind those intimidating looks is a loving and affectionate pooch who loves jumping to its owner's lap. Yet, this breed can be unfriendly to strangers. This pup has never-ending weariness, named as a very playful one. If you have an active lifestyle, then this dog can really be your best bud!
Scoland (Westie + Scotland Terrier)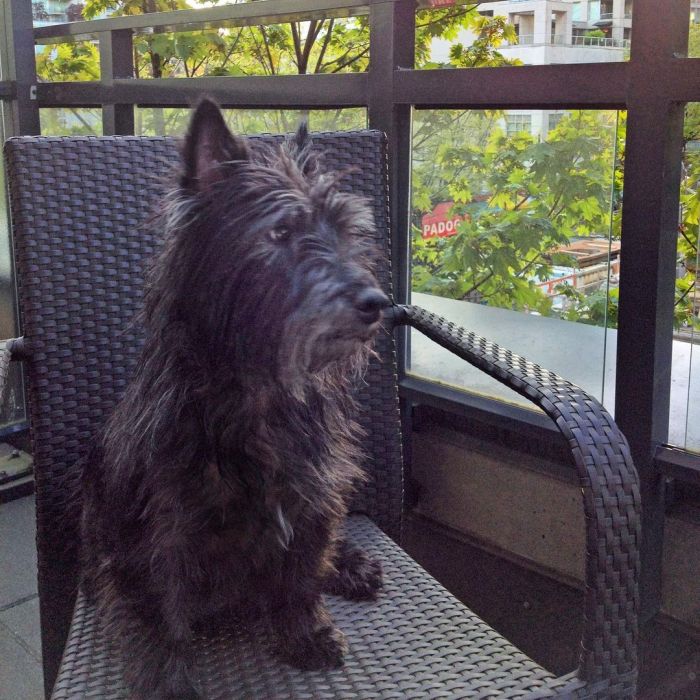 Who wouldn't think that combining two terriers with the same origin is possible? Scoland is the best sample of these designer dogs. While some thought that having the same root will not grant wonderful qualities – I beg to differ.
The best natures you'll ever find in a terrier – Scotland got it all. Silly as it may seem, but they are surely loyal ones, very protective if they think their owner's safety is at stake.
When it comes to its look, Scolands' faces are mostly after their Scottie parent while their body resembles their westie parent. You'll mostly see stiff thick fur just like their parents.
Shorkie (Shih Tzu + Yorkshire Terrier)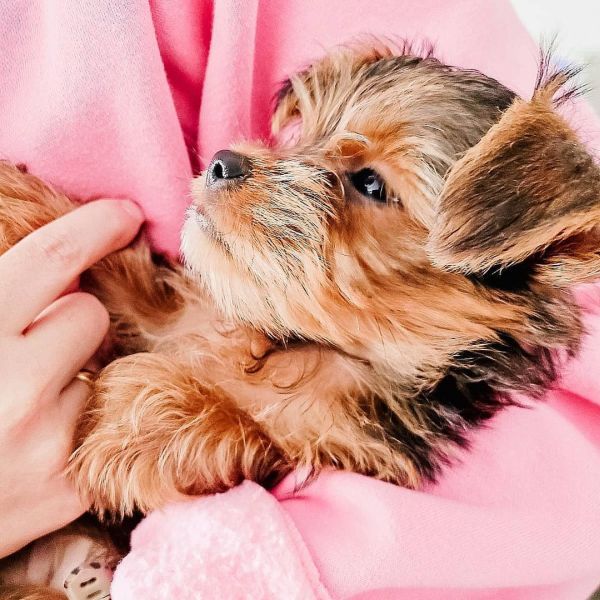 Belonging to the most charming Shih Tzu breeds, no wonder Shorkie has made it to be on the list. Its furious spirit makes it a small but tough family companion. They are most suitable for an expert dog owner – they'll definitely be easy to deal with.
Most Shorkies are not smutty and look much like a human fleece, rendering him to be hypoallergenic and easy to groom- thanks to the wonderful genes of both parents.
Besides being an adult companion, Shorkies tend to be yuppies especially when dealing with strangers, be sure to keep your patience high in training them.
Must Read: Shih Tzu Mix Breeds
Toxirn (Chihuahua + Cairn Terrier)
The Toxirn terrier is one of the sassiest little ones. The playful temperament from its cairn parent and courageous chihuahua parent bring the best attributes of a toy terrier mix.
They mostly love to be protective of their owners, just a little reminder to train them for its curb. If you're looking for a small athletic companion to get along with, you can't definitely go wrong in this little one.
Besides having those characteristics, Toxirns have great personalities that's best suitable as a family pet. Just make sure that they are properly trained so that they can socialize well.
Whoodle (Poodle + Wheaton terrier)
Among those teddy bear looking designer dogs, Whoodles shouldn't be missed. Besides having great qualities from both of their parents – Poodle and Wheaton, this terrier is indeed one of a kind.
They're mostly known to be faithful to their owners, they have the tendency to bark a lot with strangers – allowing them to be a potential watchdog. If you're keeping one for the family, it's best to commit to a regular playtime with them.
Also, having said about their sizes, Woodles are a great lap dog. It can also be vain when you get used to taking pictures!
MUST-READ: 32 Best Poodle Mixes
Yorkipoo (Poodle + Yorkshire terrier)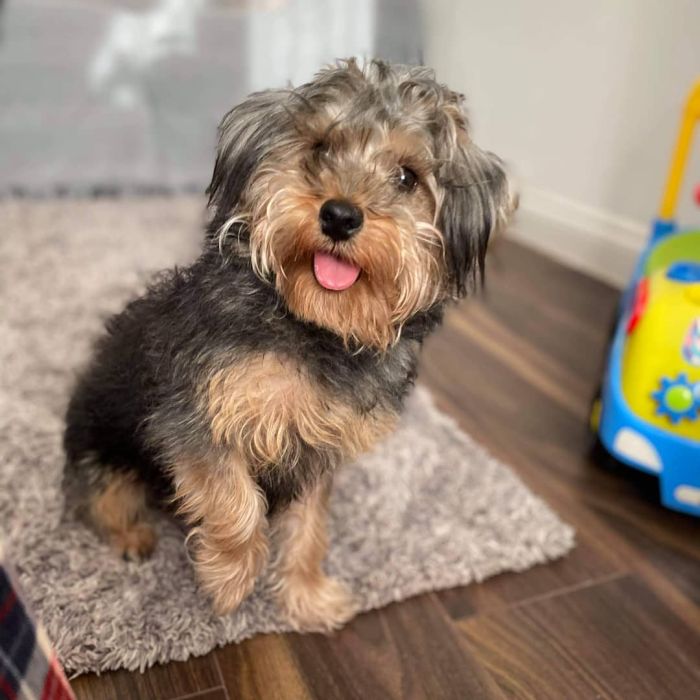 Yorkipoo is one of the best terrier mix breeds to add in the family. Whether you have small or big children, its playful attributes are definitely just one of the great features it can give.
Mixing active poodles with a confident Yorkshire seems to be exciting and challenging when it comes to training them, especially if you're a first-time terrier keeper. Also, they tend to be hypoallergenic. No frills. You'll get to enjoy their company without any worry.
While some are intentionally mixing these two marvelous breeds, you can also check out some dog orphanage and be sure to adopt one.
Terrier mixes FAQs
How long does a terrier mix live?
Truth be told, terrier mixes have indefinite life cycles. Nevertheless, it is known that terrier breeds have a longer lifespan than other famous breeds – that's quite for sure. Owing to these facts, health can be one of the indicators of their lives.
While some hybrids have a life expectancy of about 10-20 years, it's best to know that their sizes are also a great contributor in determining its life. Having said that smaller ones have a longer lifespan than the bigger terriers, it's in the best interest to know that it also varies on the kind of non-terrier parent as they are all distinct.
Also, a terrier's weight is considered to know their lifespans – specialists claimed. The average the size, the longer its life and vice versa. Also, they somewhat prove how crossbred dogs' lives are much longer than their purebred counterparts.
Does a terrier mix bark a lot?
When talking about yapping, terrier dogs are most likely loud and bark at times, especially the ones who are silly and hard to train – certainly uneasy for first-timers. If you're an expert in taking care of a crossbred terrier, you can definitely train them properly to boost their curb and socialize more.
When getting a designer dog, it's best to first keep in mind that most of them are very faithful to their owners. If neglected, they can be distressed and later be overprotective – resulting in a lot of barking and uneasiness when meeting other pups or people.
I have listed here the interesting terriers and some of their characteristics, whether you're at the apartment and living with children of their ages, you can definitely find the cutest little one that you can easily go with.
Conclusion
That being said that terrier mixes are great companion and family dogs. You can find the best ones with great temperaments from both of their parents. From small little ones to the intriguing large pooch, you can have your best bud to go with you!
Whatever your lifestyle is, these amazing hybrids are there to keep you company. They're sweet, loving, and protective. Plus, their cuteness is always hard to resist!
When properly taken care of, these mix breeds can be the happiest with their owners. I hope this blog helped find a suitable dog to add to your household.
The complete list of terrier mixes is just right on AKC.org, you can check out this website and determine the amazing designer dogs that you want to be with.