Among the cutest small dog breeds, Yorkshire Terriers have the biggest personalities. Thus, if you're taking one of them home, you'll need the best Yorkie name ideas to show off your new pet!
Bringing home a new dog, whether it is a puppy or an adult rescue dog, is a major event. Everyone is excited and there's a lot of preparation for their homecoming. However, the challenging part of having a new pet is in the search for the most suitable names for them.
There are thousands of choices. You can get cute, unique, cool or celebrity-inspired names for instance. But sometimes, you still cannot decide on the perfect one for your unique pet.
So, let us help you out with our extensive list of the most popular and top-picked names for Yorkshire Terrier dogs. More so, you have to remember that there are no hard and fast rules when it comes to naming your pet. Check out these names grouped into meaningful categories!
Cute Yorkie Names
It is undeniable that Yorkies are adorable. First, they have soft, beautiful coats, delightful faces and an amazing personality to match. And second, they are so popular! In fact, Yorkies are one of the top lapdogs in the US for 10 years now.
Therefore, celebrating this cuteness through their name is a common reference made by most pet parents around the world! Whether it's for a male or a female furry friend, here are some delightful Yorkie dog name ideas to consider:
Angel
Baby
Banjo
Bonbon
Bubbles
Butter
Candy
Coco
Dolly
Droplet
Fudge
Hula
Jelly
Lolly
Mentos
Mingle
Jingle
Nibbles
Skittles
Doddles
Star
Whisper
Twirly
Snickers
Thalia
Recommended read: 10 Interesting Facts About Teacup Yorkie (Pictures & Guides)
Female Yorkie Names
Female Yorkies' tiny size hides their true personality and it can be surprising for first-time pet parents. In fact, these dogs earned the nickname as "tomboy toy dogs." They are energetic, domineering and feisty! Similarly, they love to be showered with attention and they give back their affection tenfold. Further, if you love doting on your fur baby, Yorkshire Terriers are one your best choices.
There are many inspirations for finding a suitable Yorkie dog name for your spunky girl pooch. You can find some tough names in reference to their upfront personality and capability as watchdogs. Likewise, monikers that mean short and sweet are highly popular too.
Amy – a short and sweet name for your Yorkie
Amber – a fossilized tree resin with a beautiful orange or red color
Bessy – a classic sounding name, it means loyal
Cherie – means "beloved"
Dana – a mythical Irish Goddess
Friday – Robinson Crusoe's loyal companion
Gigi – a girl's name which means "maid" or "earth-worker"
Gypsy – means "a boho traveler"
Hazel – a type of nut, ideal Yorkie name for a nutty dog
Holly – a perfect name for puppies given at Christmastime
These names sound especially lovely for your female fur babies. Additionally, there is more inspiration for you to consider:
Heidi
Princess
Belle
Emerald
Sherry
Peaches
Sharon
Nova
Naomi
Ellen
Scarlet
Sophie
Fanny
Leila
Ruby
Missy
Katie
Polly
Dory
Mika
Kimberly
Kioko
Susan
Dory
Sammy
Duchess
Bonnie
Serena
Tara
Skye
Velvet
Zena
Tinker
Yasmin
Zaira
Male Yorkie Names
Like female Yorkshire Terriers, males can also be extra affectionate. More so, they are playful, feisty, and also, domineering. They can be great watchdogs and can become very attached to their owners. Like their female counterparts, male Yorkies are also loving and they crave attention.
It is important that you find them a name that gives honor to their distinct traits, attitude and loyalty. For instance, there are modern and traditional human names that may be suitable for your best buddy. Other inspirations you might explore are colors, nature and some unique monikers from other languages. Here are some names to consider:
Arnie – a name that means "eagle"
Bailey – a name to give your trusted guidance
Bentley – a sleek and elegant car
Brenn – means "prince" in Gaelic
Chico – a Spanish word for a small boy
Dandy – a word that means "fancy"
Elmo – from St Elmo's fire
Rags – this is a favorite dog name
Toby – a shorted version of Tobias
Yoda – the wise Jedi master
There are many other monikers that you can consider for your boy puppy. Try out other names you see here in our list and pick your favorites:
Ziggy
Oscar
Pablo
Hyde
Zak
Glen
Fig
Dante
Giles
Leo
Jogger
Chester
Prancer
Tito
Duke
Frankie
Jamie
Lucas
Benji
Archie
Dylan
Jacob
Axel
Thomas
Mickey
Buddy
Jake
Max
Chip
Admiral
Captain
Edward
Tracker
Gizmo
Yorkie Puppy Names
Our next list is an amazing selection of monikers that is perfect for your Yorkie puppies! These tiny creatures are yet to unfold their personalities and traits. As pet parents, we are excited to find out what they are like when they get bigger. Some great ideas for naming puppies come from their tiny sizes and coat colors. Similarly, the puppies adorable looks are another inspiration for finding the perfect moniker. Take a look at our lists of wonderful Yorkie puppy names:
Teddy
Cookie
Silky
Sugar
Kitty
Biscuit
Penne
Beau
Pooh
Hiccup
Bunny
Nemo
Brownie
Mouse
Pumpkin
Tootsie
Sage
Skip
Cubby
Binky
Sweet Pea
Sassy
Rusty
Reese
Scout
Tilly
Tweety
Vida
Oreo
Mia
Paris
Desi
Baxter
Booker
Carson
Must read: 7 Types of Adorable Yorkie Puppies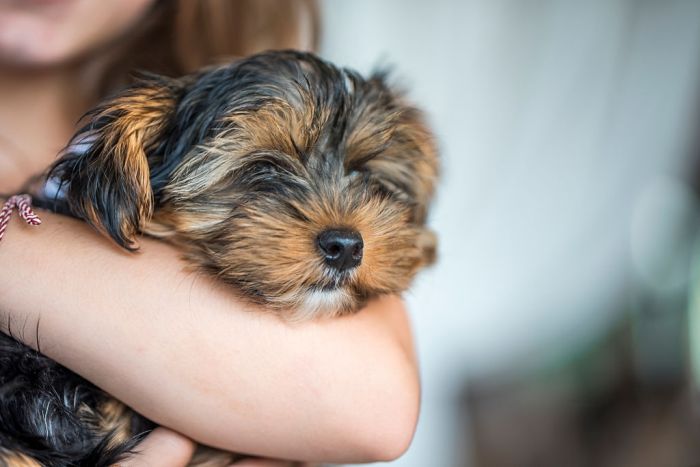 Famous Yorkie Names
The Yorkie charm definitely affects everyone! They are seen in movies and television shows as funny, loyal, and delightful characters. You will recognize them in various genres from horror movies, comedy and children's films. Indeed, these dogs are well-loved stars in their own right. Here's a list of famous Yorkie names you might have heard and seen from movies and shows.
Toto – from the movie "The Wonderful Wizard of Oz." Toto is a Yorkie in the book, however, he was played by a Cairn Terrier in the movie.
Moses – the family dog owned by Ben Stiller's parents in the movie "Meet the Focker."
Pickles – the name of the pet of Aunt Dee in the movie Daltry Calhoun.
Hootie – from the popular horror movie, "Urban Legend." Hootie was a fraternity house, beer-drinking dog.
Mignon – this Yorkie is the pet of Eva Gabor's character, Lisa Doughlas in "Green Acres."
Boi – from the movie "High School Musical 2," Boi is Sharpay Evans' pet.
Puppy Goo-Goo – from the popular sitcom, "The Simpsons." The character Milhouse Van Houten owns this Yorkie.
Barney – the Yorkie from the show "Lou Grant." He was attacked by a Pit Bull Terrier on air, thus legislation to stop dogfighting was started.
Celebrity Inspired Yorkie Name Ideas
Apart from famous Yorkie characters from movies and TV shows, you will also appreciate monikers given by celebrity owners for their beloved pets! These dogs are also very trendy among Hollywood stars too! If you're a fan, you might consider these interesting titles given to their pet Yorkies.
Mr Famous (Audrey Hepburn, starred alongside her in films)
Pasha (Lived in the White House with famous owner, Richard Nixon's daughter Tricia)
Poncho and Hoodie (Missy Elliot)
Cinderella (Paris Hilton's Teacup Yorkie)
Jack (Hilary Duff)
Roadie (Miley Cyrus)
Spike (Donny Osmond)
Doogie (Whitney Houston)
Whiz (Natalie Portman)
Tiger (Ivanka Trump)
London (Britney Spears)
Spike (Donny Osmond)
Dakota (Lindsey Lohan)
Frankie (Orlando Bloom/Miranda Kerr)
Enzo (Vanessa Williams)
Freak (Anastasia)
Daisy (Carmen Electra)
Zippy (Alyson Hannigan)
Big Yorkie Names for Their Big Personality
One notable trait of the Yorkshire Terrier is their larger than life personality. Despite their tiny size, weighing somewhere between five and seven pounds, these dogs are tenacious! Thus, while we'd love to give them names that refer to their pint-sized cuteness, there are also pet parents who go for the opposite. Ironic as they may sound, this list of super-sized monikers will surely match their "big" personalities!
Atlas – from the Greek Mythology. Atlas was a Titan who held the Universe in place. A perfect Yorkie name pups who love a game of tug-of-war.
Bear – Yorkshire Terrier dogs look like tiny teddy bears. Naming your pet "Bear" is a funny irony in reference to their size.
Chewy -the popular Star Wars character Chewbacca particularly resembles your beloved Yorkie.
King – typically, new dogs are invaders. They take over the household and oversee it like it is his kingdom. Give them this royal name that suits them best.
Moose – these woodland creatures are massive in size. Giving such a name to a tiny dog is doubly adorable.
Rocky – in honor of Rocky Balboa. This is an ideal name for Yorkies with a tough-guy attitude.
Thor – the God of Thunder and Lightning. If you love Marvel characters, this can be a great choice as well as Hulk!
The Best Yorkie Names
Finding the best Yorkie dog names for your pets is important because it lasts their lifetime. Like our 300 dog names that best suits your Poodles, there are many options available for Yorkies too. We have listed them in categories you may appreciate. Ideally, you should choose a name that is easy for you to pronounce and for your pet to understand.
Similarly, your name choices should be something that you are comfortable to call out in public. Keep in mind that you will say it out loud when you are at the dog park or in the neighborhood to command your pup. As much as possible, avoid giving them monikers out of an inside joke.
Here is a list of names that resonated with pet owners and seemed to have suited the Yorkie's appearance and personality.
Lola
Luna
Annie
Maggie
Stella
Spike
Pixie
Oliver
Marley
Zoe
Maddie
Bella
Jackson
Winston
Miles
Ethan
Caden
Fetcher
Grayson
Bolt
Viper
Rocket
Gunner
Hawk
Tank
Archer
Bullet
Saber
Monty
Darius
Philip
Diana
Lizette
Emily
Chi chi
Related read: Yorkie Poodle Mix – The Cutest and Adorable Designer Dog (Yorkiepoo)
Fun Facts About the Yorkshire Terriers
Before we finally go, we're excited to share these random facts about the sassy, spunky and sweet Yorkshire Terrier dogs. New pet parents will easily fall into their charms, but hold up! Don't these dogs bully you into giving in to all their wishes. Here are some crazy and cool tidbits you probably didn't know about these little fellows:
The Yorkshire Terriers started out as blue-collar working dogs in the 1800s. They were bred initially to hunt out vermins and rats hiding in mines and mills. These active little pups also chased out foxes and badgers from underground! These traits may still appear in modern-day Yorkies, thus consider joining non-competitive dog sports to test their hunting abilities too.
Yorkies might have descended from the Waterside Terriers. These dog breeds were brought to Yorkshire by weavers who came to England from Scotland in the mid-1900s.
The Yorkshire Terrier made its first show appearance in 1861 in a bench show in England as the "Broken Haired Scotch Terrier."
Huddersfield Ben, a champion show dog, is considered the "Father" of all Yorkies. He lived a full six years, won more than 70 show prizes, and sired hundreds of puppies.
The Yorkshire Terrier is presently the 9th most popular toy dog breed in the United States.
Finally, Yorkies are adaptable canines. Even if they are very small, they do well in large urban environments. They have confident manners that are advantageous in various situations. Similarly, providing training and socialization at a young age will help these sassy pups grow into well-behaved adult Yorkies.
Conclusion
Lastly, we all know that Yorkshire Terriers, otherwise known as Yorkies, will remain one of the most popular dog breeds in the world. First, they have this unique teddy bear-like look that pet parents go crazy about. And second, they have a big personalities, affectionate and are very loyal to their owners. Thus, whether you have a spunky companion or a purse diva, we covered a long line of Yorkie name ideas just for you!
We'd love to hear your thoughts and additional name ideas for Yorkies. Is our list missing some amazing names you know of? Let us know by leaving us a message in the box below!
MORE DOG NAMES