There are a lot of reasons why Shih Tzus are real darlings of the crowds. First, they have adorable looks and feisty personalities deeply rooted in their heritage. And second, they are affectionate and playful. These dogs are home-bound puppies that are best cared for indoors than outdoors. It's no wonder, they are well-loved family pets around the world! Thus, if your family is joining the bandwagon, you must have a Shih Tzu dog ready to be rehomed.
So, is everything you need ready for your new pet? Initially, you must have a dog bed, accessories, toys, food, and feeding items and even scheduled a veterinary visit. But, have you thought of the perfect name for your new pooch? A Shih Tzu breed's behavior, appearance, and size are some of the best inspirations to think up a name, for instance. Here, we also have some fantastic ideas to share with you. Therefore, browse down for some of the best choices, most popular selections, cutest and coolest Shih Tzu dog names.
 Male Shih Tzu Names
Male Shih Tzu dogs are said to be more attentive and affectionate than their female counterparts. Although most females are spunky little puppies, male Shihs are more reliable. For instance, they are more tolerant and accepting of other pets and kids. Furthermore, if you pair it up with their long fluffy hair, and you have the perfect gentleman in tow. You have a range of inspirations when choosing a name for these charming, tiny, and sometimes arrogant pooch. Thus, here are some ideal monikers for your male Shih Tzu.
Amigo – a Spanish term for "friend"
Atom – a small particle
Bailey- means law enforcer, an apt name for the old Tibetian monastery guards
Bantam – short for a bantamweight
Bao – refers to a Chinese steamed bun, but also means "treasure"
Beau – means "good-looking"
Buddy – a popular name for a canine friend
Cesar – means "hairy" ideal as fluffy Shih Tzu dog name
Charlie – means "strong"
Chengdu – a city in China where there are lots of Panda
Chewie – from Chewbacca, ideal for Star Wars fan
Cookie – for a sweet and affectionate pooch
Cuddles – apt name for these lapdogs who loves to cuddle
Duke – means "leader"
Dusty – a fun name for shaggy Shih with a mop-like hair
Also, a Shih Tzu name for your male pooch may be inspired by their noble bearing, quirky antics, temperament, or colors. In addition, it can be anything out of the ordinary or extra unique for your pleasure. Here are more examples of a male Shih Tzu dog name.
Dobby
Finn
Fushi
Harry
Hobbit
Hulk
Jack
Ji
Junior
Kewpie
Kai
Kit
Latte
Lee
Lionel
Magic
Milo
Leo
Mushu
Nipper
Nibbles
Oreo
Nugget
Mushu
Panda
Peewee
Patches
Piccolo
Otto
Pickle
Raj
Rascal
Samson
Scrappy
Shamu
Smurf
Samson
Snickers
Sumo
Toto
Tofu
Turbo
Wonton
Xiao
Xin
Female Shih Tzu Names
Next up, are names for your female pets. Choosing a Shih Tzu dog name for a female puppy can be a fun and exciting experience, especially if it's an adorable pet like the Shih Tzu. There are thousands of choices to choose from when it comes to naming a female pet. Just look into their temperaments, size, colors, and cuteness factor to find the most fitting one. Here is a list of lovely names to consider.
Ai – Chinese word that means "love"
Belle – means "beautiful"
Biscuit – a cute name for a tan and white pooch
Bitsy – a moniker for small canine
Blossom – inspired by a popular 90's TV sitcom
Brandy – a warm brown colored liquor
Buttercup – ideal for a butter-colored puppy
Button – for puppies that are cute as a button
Caramel – a sweet name for a caramel-colored dog
Chanel – an iconic name for an elegant pet
Charlotte – regal sounding name for a royal lap dog
Chiffon – refers to a type of light fabric
China – the place of origin of the Shih Tzu dogs
Cinnamon – a sweet and tangy name for your pet
Fifi – a cute name for small dogs
Likewise, other pet parents prefer simple but meaningful names for their pooch. Thus, here are other Shih Tzu dog names that you can consider for your female pet:
Bonsai
Boo
Cosette
Demi
Dove
Empress
Fiona
Elsa
Gracie
Happy
Jelly
Honey
Jia
Joy
Kiki
Leona
Lily
Lucy
Maisie
Mei Mei
Maya
Minnie
Mocha
Maxie
Mulan
Mittens
Mitzi
Nala
Pearl
Pebbles
Pepper
Phoebe
Puffin
Poppy
Shrimp
Sienna
Sugar
Sparkle
Tootsie
Asia
Yue
Zoey
Tiny
Raisin
Plum
Recommended Reads: Best Shampoo For Shih Tzu: Recommended Picks & Guide [2020]
Shih Tzu Puppy Names
And when it comes to naming puppies, many fur parents hesitate on their choices. As puppies, you are still unaware of their personality and behavior. Initially, your best bet is to look into their appearance and size to come up with a perfect name. Further, some names are best inspired by nature, color, or food. Have fun browsing our list of cute and adorable Shih Tzu puppy names.
Ning
Peanut
Petit
Smidge
Sundae
Tawny
Teeny
Thumbelina
Tinkerbell
Annabell
Ash
Baby
Ava
Basil
Bambi
Billie
Bean
Cricket
Doc
Donnie
Frances
Foxy
Fritz
Journey
Kenya
Marley
Peggy
Penny
Skye
Taz
Taylor
Sylvan
Summer
Storm
Taco
Xena
Twinkle
Trixie
Yasmin
Zara

Cute Shih Tzu Names
Certainly, it's hard to get enough of your Shih's cuteness factor. Thus, we have more cute and delightful Shih Tzu dog name choices for your cuddle buddies. More so, we sourced out some of the best-voted names when it comes to "cute." Check out this list for inspiration.
Colin
Kingsley
Spud
Rolo
Nikki
Lola
Hank
Violet
Josie
Rosie
Henry
Winter
Ember
Paisley
Snowy
Olivia
Shorty
Hershey
Moose
Cheerio
Related Reads: Temperament and Interesting History of Shizi
Shih Tzu Scientific Name
The Shih Tzu dogs have been giving owners a treasured company for more than 1000 years. Also, they are crossed many times from the Lhasa Apso, Pekingese, and the Tibetan mountain dogs. Moreover, they were considered as gifts between Buddhist countries for centuries. Similarly, Shih Tzus share the scientific name Canis Lupus with various canines. In addition, it has a subspecies name of Canis Lupus Familiaris.
The Best Shih Tzu Names
The popularity of the Shih Tzu has reached royal houses, celebrities, and Hollywood stars. Thus, we have also looked into their best name choices for their pets as another inspiration for our Shih Tzu name list. Here are some of the best names according to our well-loved stars.
Ballmer – the name of the Shih Tzu owned by Bill Gates
Bing and Bong – Mariah Carey's Shih Tzu pets
Choo Choo – name of Queen Elizabeth II's pet Shih
Legend – the name of Jacinda Barrett's pet
Panda – the name of Betty White's pet Shih Tzu
Sumo – a name given by Susie Essman to her Shih Tzu
Wangcai -a popular Chinese dog name
Xi'an – an old city in China
Bella – the name of Rebecca Mader's pet
Bonny – Colin Farrell's pet Shih Tzu
Honeychild – Nicole Richie's pet name
Munchie – Beyonce's choice of name for her Shih Tzu
Diva – the name of Fantasia Barrino's pet
Rusty – the name of David Hasselhoff's pet Shih Tzu
Harry – Geri Haliwell's pet name
Must Read: 20 Uniquely Adorable Shih Tzu Mixes You Should Consider For Your Next Pet
Popular Shih Tzu Names
Shih Tzu dog breeds are referred to as the "Lion Dogs." The word Shih means "lion" in Chinese. Moreover, these dogs are called using various names, but the most unique could be the "sleeve dog." Further, some of the most famous names chosen by pet parents around the world paints a picture of a fierce Lion, a beautiful flower, and a nod to their noble history. Check out this list for some surprising Shih Tzu dog name ideas.
Lola – this name has several origins, but the most popular is "Dolores" which means "sorrow."
Mia – means "bitter" in Latin, but it may be applicable for a rebellious little pooch.
Lucky – an ideal choice for fur babies who brought good fortune to their pet parents.
Maximus – in Latin, this name means "greatest," fitting for a royal charmer.
Coco – an ideal name for a spunky girly Shih Tzu. It may also refer to its chocolate-colored coat.
Bandit – this name is famous for two reasons. First, it is a fitting name for a puppy with a unique dark band in the eye area looking like a mask. Likewise, it is also an excellent choice for pups who love to grab things and hide them.
Willow – is a popular girl name for puppies with a graceful stance.
Cooper – In recent years, Bradley Charles Cooper, the American actor, and director also became a popular inspiration for naming pets.
Bailey – this popular dog name comes from the Old French word, which means manager or administrator.
Gizmo – another top choice for a male Shih Tzu name is Gizmo. This word initially refers to electronic devices, but pet parents are naming their fur babies with this cute name.
Cool Shih Tzu Names
Shih Tzus may be small and cute, but they do have a cool and funny personality. They love their owners to the fullest, and they can be tolerant and playful with kids. Therefore, this fantastic combination deserves some cool names for your consideration. Here are some Shih Tzu dog names that best refers to their laid-back personality.
Daisy – this name comes from the pretty flowers. Many pet parents choose words from flowers like Daisy.
Oliver – associated with the olive tree. Likewise, an olive branch is considered a symbol of peace.
Molly – widely thought to mean "beloved." It is a fitting choice for a well-loved Shih Tzu puppy.
Chloe – from the Greek goddess of fertility. It is an excellent choice for an affectionate canine friend.
Amber – refers to the yellowish fossil resin, and it's a lovely name choice for a furry friend.
Gucci – another popular choice for people who love designer brands. Inspired by Guccio Gucci the designer.
Harry – from Prince Harry Charles Albert David. He is a well-loved royalty along with his older brother Prince William.
Oscar – is from the famous Irish writer, Oscar Wilde. This name is one of the most picked names when it comes to a male puppy.
Dewy – a perfect Shih Tzu name for puppies who brings you lots of joy.
Teddy – this one tops the list for popular name choices for Shih Tzu. These dogs resemble a teddy bear; thus, it is a fitting moniker for them.
Additionally, here are other cool and laid-back name choices for your sweet and loving Shih:
Precious
Sweetie
Angel
Dainty
Joyful
Darling
Allure
Dazzle
Enchantee
Winsome
Bestie
Kindly
Amity
Glamour
Lady
Perky
Peppy
Goodie
Bubbles
Frolic
Bouncy
Merry
Sleepy
Merry
Whimsy
Shih Tzu Mix Names
Shih Tzus are ubiquitous, and they share the same temperaments with their parent breeds. Some popular mixes are Shih Tzu Chihuahuas, Shih-Poos, and ShiPoms. Moreover, the appearance of these mixes varies widely depending on which parent they take from the most. Therefore, if you are lucky to have an adorable Shih Tzu mixes, here are excellent name choices for your pet.
Alvin
Amos
Andy
Adeline
Adrianna
Carla
Coraline
Aspen
Baxter
Casey
Eggie
Frida
Fern
Candy
Fannie
Estelle
Gwen
Halle
Gypsy
Ivory
Liv
Lizzy
Mara
Margot
Jada
Layla
Missy
Mojo
Nellie
Sunny
Sue
Theo
Wren
Tiana
Rosie
Angie
Nacho
Noodle
Laurel
Artie
Jolly
Serenity
Munchkin
Goofy
Princess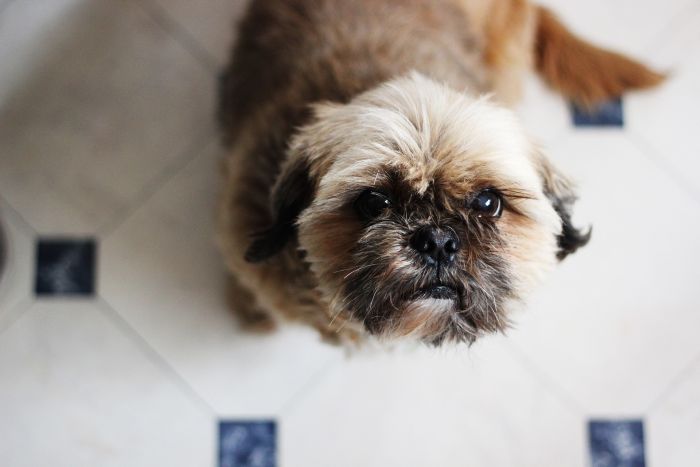 Conclusion
In conclusion, there are thousands of excellent Shih Tzu names that are bound to be perfect for your furry companion. Thus, if you are having a challenging time deciding on the most suitable name, feel free to browse through our list. More so, you may also try out some of your favorite names on your dog to see if it fits him or her. Furthermore, try to involve your family and friends in the name-choosing process too. For instance, there might be someone who's completely opposed to your choice. Lastly, make sure that you go for a name that is easy to pronounce, especially if you have young kids at home.
Finally, have you found a name for your Shih Tzu? Let us know what you think is the best by leaving us a comment in the box below.