A Chihuahua dog is the favorite type of small dog that most dog lovers would like as a pet. For most people, any Chihuahua is okay, but there are some who want a particular type of Chihuahua and would like to know the difference between these Chihuahua breeds.
Officially there is only one breed of Chihuahua, but for identification and classification purposes they have been categorized into several kinds of unofficial "breeds." There are many unofficial breed categorizations for the Chihuahua dog, but only two of those categorizations are commonly known to most people: the apple head Chihuahua breed and the deer head Chihuahua dog breed.
The head shape of each dog quickly distinguishes the apple head Chihuahua breed and the deer head Chihuahua breed from one another. However, the form of their heads is not the only thing that is different. Thy two dog breeds have many not-so-obvious differences. If you want to know the various traits of the apple head Chihuahua breed and the deer head Chihuahua breed, then this information can be of significant help to you.
Apple Head Chihuahua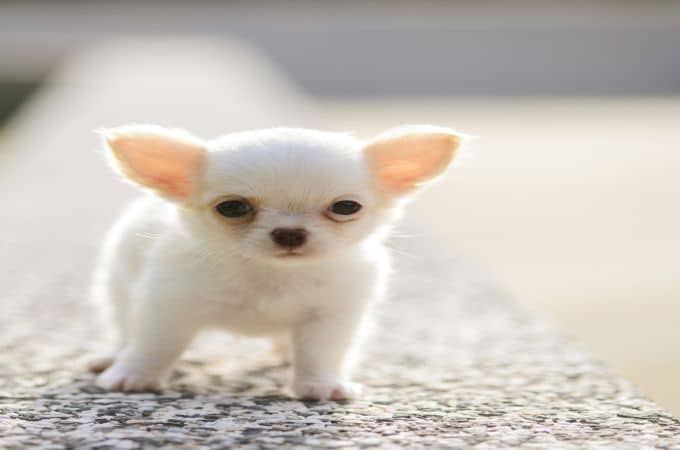 Adult apple head Chihuahuas and Apple head Chihuahua puppies have a well-rounded apple-shaped skull.
All apple head Chihuahua puppies are born with a molera. A molera is a soft spot in the puppies' skull that may or may not completely close when it becomes an adult.
Most dog associations like the AKC emphasize the dog's apple head shape to be accepted as a breed standard.
An apple head Chihuahua has a muzzle that is broad and short.
The dog's jawline is prominent.
All apple head Chihuahua puppies and adults have a broad, prominent forehead.
The eyes of an apple head Chihuahua tend to bulge from its sockets. The bulge is more pronounced if the apple head Chihuahua is suffering from hydrocephalus.
They are the epitome of the Chihuahua breed as well as its poster boys. Mention Chihuahua and the first thing that comes to the mind of the person is the apple head Chihuahuas, not the deer Chihuahua.
As mentioned above apple head Chihuahua puppies are born with a molera. Therefore, their owners must take all precautions to prevent them any potential head injuries. The molera will often close when the pup matures, but only for some puppies.
Apple head Chihuahuas are often the favored breed that is entered in any Chihuahua dog shows.
Often said to be the most popular dog type by some dog lovers. However, other dog lovers would counter that the deer head type in more attractive or both breeds is equal in popularity.
Deer Head Chihuahua
A deer head Chihuahua has a long angular face unlike the apple head Chihuahua.
Often called a "deer Chihuahua" due to its head shape which is like a deer. If you put some decorative deer horns on a deer head Chihuahua, it will resemble like a deer. Some ancient Mesoamerican art depicts this breed wearing deer horns.
The muzzle of the deer head Chihuahua is elongated compared to its Apple head cousin.
Also, the dog's muzzle has no slope, unlike its Apple head cousin. The point where the muzzle and skull joins are at a 90-degree angle hence the lack of a slope.
For some dog lovers the head of the "deer Chihuahua" resembles wedges of cheese.
Considered to be a deviation of the apple head Chihuahuas by dog associations like the AKC. That said a deer head Chihuahua is not qualified to enter in Chihuahua dog shows.
The legs and body length of a deer head Chihuahua is longer compared to the apple head Chihuahua. This trait gives the dog its elegant body shape and looks.
A deer head Chihuahua grows big at 10 to 12 pounds compared to the apple head Chihuahua. This weight difference is another reason why a deer head Chihuahua is disqualified from dogs shows since the size standard is 6 lbs or less.
Some dog owners claim that this dog breed is less aggressive and more obedient. Whether this is true or not is debatable. However, what is certain is that the temperament of both breeds often depends on the owner. If the owner is good or bad when it comes to interacting his/her Chihuahua dog, it will then reflect on the dog's temperament.
Related Post
All apple head Chihuahuas along with the deer head Chihuahua breed are virtually similar in other aspects. Both dog types have a coat that comes in color like a fawn, black, red, white, cream, brown and chocolate. They also have patterns like solid, splashed and marked. Some people further classify the dog into long-haired and short-haired types. Both Chihuahua breeds come in long-haired and short-haired coats. Also, the grooming methods of both breeds are similar.
When it comes to health, both dog types have the same issues like hydrocephalus, hypoglycemia (low blood sugar), tracheal collapse, chronic bronchitis, eye infections or injuries due to bulging eyes, obesity due to overfeeding and short lifespan. In spite of all these problems they are treatable and can be prevented.
Finally, the personality of each dog is the same. Expect it to be fiercely loyal (to one person at least), overprotective, clannish (does no mingle with non-Chihuahua dogs), fun, playful, loving and cute.
It doesn't matter whether you choose a deer head or apple head Chihuahua puppies as your pet since a Chihuahua is an excellent choice of pet regardless of its breed. Some dog owners say that there is a significant difference between deer head or apple head Chihuahuas. Yes, it is true that both are different, but only on the surface. When it comes to personality, other physical traits and health both breeds share the same thing. No matter what Chihuahua dog breed you choose, just remember the most important aspect: give the Chihuahua all the love and care you can give it as a beloved pet companion.