A Maltipoo is a gorgeous dog for anyone who wants a dog pet that is friendly, cute and fun. It is quite curious that most owners of a Maltipoo know little or nothing about the canine. There is a lot of trivia or facts about the Maltese poodle mix. Some are useful, while some are for entertaining reading. If you are the type of Maltipoo owner who wants to know those fascinating tidbits of facts about your dog, then this list can help you.
Facts About Maltipoo
1. The dog is known by many names such as MaltiPoodle, Moodle, Malt-oodles, Multapoo, Maltese-Poodle, Multipoo, Maltapoo, Multapoo, Malte-Poo and Malti Poo. When you look at it, some of these names are funny.
2. Various dog kennels spell the dog's name differently. For the Designer Dogs Kennel Club, it's "Malt-A-Poo." Maltipoo Club of America spells it Maltipoo while North American Maltipoo Club spells it "Maltipoo" and "Maltepoo."
MUST-READ: Best Small Dogs For Apartments
3. For a dog that has lots and lots of hair, it sheds very lightly. This particular trait makes this dog breed a good pet since their owners often don't have to clean their shed hair.
4. This dog is more of a hybrid than an actual breed type and is classified as a "non-purebred miscellaneous" dog by some dog kennel organizations. They may have a point since the dog is a Maltese Poodle mix. However, some would beg to differ about the dog's classification.
5. They don't breed too many puppies when they give birth. Expect 4, 5, or 6 puppies per litter. Sometimes so you can expect more than six puppies per litter though this rarely happens.
6. A Maltipoo full-grown dog weighs about 2.27 to 5.4 Kg or 5 to 12 pounds. The weights mentioned are breed standard for most, if not all, dog kennel organizations and clubs.
7. The dog can have health problems in hot weather like summer since they are susceptible to heat change's adverse effects. It is advisable to take the dog at dawn or dusk and stay in the shade during walks. In cold weather, the dog must wear a sweater to keep it warm and must limit its time outdoors.
If you are looking for dog strollers, read our guide about the best doggie stroller.
8. The lineage of Maltipoo puppies from the 1st generation is different from the 2nd generation's puppy. 1st generation Maltipoo puppies are the results of breeding a Poodle and a Maltese. In contrast, 2nd puppies are born from the union of two Maltipoos.
9. You may not notice it, but Maltese poodle mix still acts like puppies even when they are adults. This trait is one reason why the dog is popular with dog lovers. They can be easily trained and loves to play as well as having a friendly personality.
10. Maltipoos can either be big or small in size, depending on their parents. Breeding a Miniature Poodle with a Maltipoo results in larger puppies, while breeding with a Toy Poodle results in smaller puppies.
11. the dog is indeed a suitable pet for children, but only older children. The Moodle is a delicate dog, and it could get hurt when younger children play with it roughly. However, you can teach younger kids how to handle the dog properly. You can supervise them whenever they carry and hold the dog.
12. The dog's coat comes in a variety of colors, depending on the colors of its parents. For example, a solid white parent bred with a different colored dog will result in white faded coloring. As usual, some people prefer one color to another color, but white remains the most popular color for the dog. Some examples are black, blue, Café Au Lait, gray, red and silver.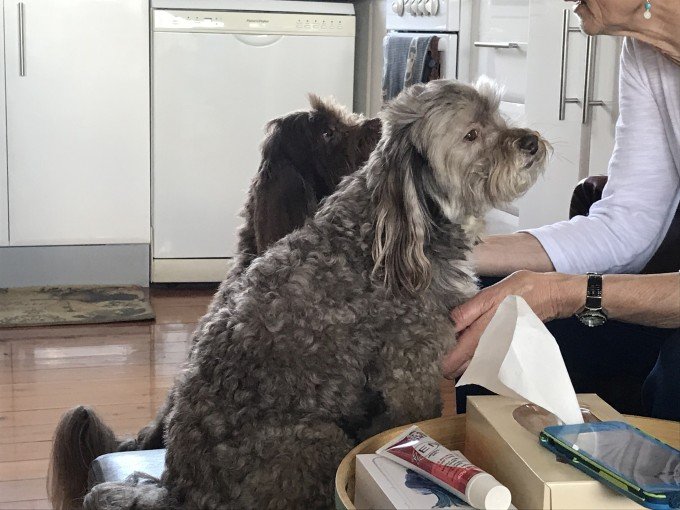 13. Speaking of color, apricot is an attractive color too. An apricot-colored coat looks silky and soft, as well as having a gorgeous hue that many people love.
14. Curiously enough, the brown color among Maltipoos is not officially recognized. Because of this unrecognized status, Browns is called by other terms like toffees and chocolates.
15. Some people call the Maltipoo a mutt and you know what? They're wrong about the idea. The dog is the result of an intentional breeding between two different dog breeds, which in this case happens to a Poodle and a Maltese. However, a mutt's parents are unknown; hence, you can't classify as to what breed it belongs to.
Make sure to read our guide about the Bike basket for small dogs.
16. At a casual glance, each dog's coat may look similar to each other. The truth is that there are three kinds of coat on the dog that result from different breeding practices. The coats are: thick and curly, soft and silky, or wiry and wavy. The wiry and wavy type is a result of poor breeding methods. Many people don't like this kind of coat. Hence, it is the least popular.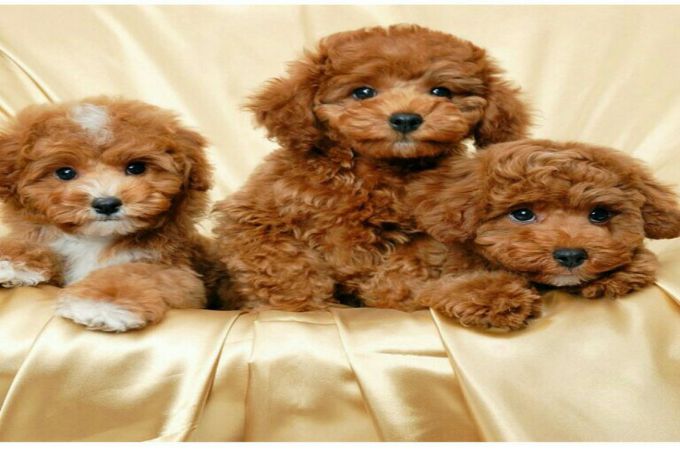 17. It is a fact that this dog breed is a crossbreed or designer type of dog. What is not a reality is the notion that these kinds of dogs are terrible animals that were the result of poorly-skilled backyard breeders. All of today's purebred dogs came about as a result of breeding two different breeds of canine. Anyone keep insisting that this "fact" is right is either mistaken or just being spiteful to a Maltipoo dog breed.
18. It is not good or healthy for female Maltipoos to mate and carry a litter when they are two years old younger. The best age to mate would be at 2 and three years old.
19. The friendly personality of the dog makes it an excellent companion to other dogs and cats. Test and see if the two animals can tolerate each other. Do this test before bringing a new pet just to be on the safe side.
20. A Maltipoo has an average lifespan of 12 years, so don't worry about being outlived by your pet. With proper care and careful maintenance of the dog's health, you can expect your pet's lifespan to extend to 14 to 16 years old. This lifespan is due to the Maltese lifespan of its parent, which is a Maltese dog.
21. Also, about lifespan: it is a fact that small dog breeds have longer lives compared to large dog breeds. Teacup Maltipoo's belong to the small dog breed type. Note that a dog is considered a small breed dog only if its size is below 8 inches when it is full-grown. Some may mistake a large dog breed for a small breed type when they're still puppies.
22. Your beautiful pet can eat any nutritious and healthy food that you give it. However, the dog cannot adapt to you changing its diet in a fast way. To avoid the health issues that would result from such an act of change, slowly change your dog's diet over the course of 4 weeks.
MUST-READ: Cutest Dogs That Don't Shed
23., Unlike other breeds, the Maltipoo has no proper weight range for full-grown Maltipoos. Nevertheless, the unofficial weight range is 5 to 20 pounds though some dogs are an exception to the rule.
24. All kinds of pets have health issues, and Maltipoos are no exception. Hip dysplasia, allergies, dental problems and luxating patella, hypothyroidism, cardiomyopathy, White Shaker Syndrome and Legg-Calve-Perthes Disease are some of the health problems that will plague your pet. Neglecting to treat these problems can be fatal to your pet. The good news is that all of these health issues can either be treated or prevented, so don't let yourself be discouraged in getting this dog breed.
25. Begin training your Maltipoo as early as possible. The best age to train your dog is when it's eight weeks old. Take training slowly at first and stick to basic commands like "sit" and "stay." Remember to be firm with your training, but balance it with gentleness. When the dog is older and responds favorably to your commands, you can teach it more advanced tricks.
26. Tear stains in your dog are not fatal though it is unhygienic. This condition is common to this breed, especially to dogs that possess a light-colored coat. The simple thing to do about tear stains is to clean your dog's eyes thoroughly and carefully. The causes of tear stains can either be leaking dyes from plastic food bowls, red yeast infection, etc.
27. Do not leave your Poodle Maltese alone for extended periods of time. The result of leaving your dog alone for a long time is that it can become anxious, leading to stress as well as constant barking.
28. Maltipoos are fond of doing exercise, playing and walking outdoors. However, your pet is mostly an indoor pet and it may not tolerate being outside for extended periods of time. Since it is not a large dog, you need to keep an eye on your pet and put a leash on it when going outside.
29. A Maltipoo in temperament is an affectionate, friendly, loyal and playful dogs. This positive trait is one reason that most people like the dog as well as being friendly to strangers and other pets. This trait can be a positive trait for the dog, but it can be a negative trait as well since they won't make good guard dogs.
30. A Maltese poodle is a favorite dog among dog lovers. Why? Well, the facts that are stated above are the reasons why Maltipoos are popular.
You can't go wrong in choosing a cute Maltipoo as a pet for you and your household. Who can resist having a pet companion that is friendly, lovable and fun? Always remember to love, care and bond with a little bundle of joy, and you will be reciprocated with the same gesture.
Must Read: